Data Archive: LMOS 2017
---
Recent Activities

Public access for LMOS data available at ASDC Sub-Orbital Order Tool (SOOT)
( Click here for Introduction & Brief Tutorial for SOOT )
Mission Overview:
Elevated spring and summertime ozone levels remain an air quality challenge along the coast of Lake Michigan, with a number of monitors exceeding the 2015 National Ambient Air Quality Standards (NAAQS) for ozone. Production of ozone over Lake Michigan combined with onshore daytime "lake breeze" airflow is thought to increase ozone concentrations preferentially at locations within a few kilometers of the shore. This observed lake-shore ozone gradient motivated the Lake Michigan Ozone Study (LMOS) 2017 during May and June 2017.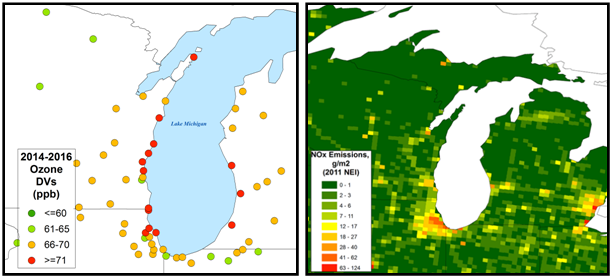 Ozone Design Values (DVs) for 2014-2016 in ppb (left) and NEI 2011 NOx area emissions in g/m2 (right). DVs greater than or equal to 71ppbv (red) exceed the 2015 NAAQS for ozone and are primarily found around the shore of Lake Michigan in this region.

This campaign provides extensive observational air quality and meteorology datasets through a combination of airborne, ship, mobile lab, and fixed ground-based observational platforms. Additionally, chemical transport models (CTMs) and meteorological forecast tools assist in the planning for day-to-day measurement strategies. The main objectives of LMOS are to better understand the lakeshore ozone gradient and to evaluate and improve CTMs used for regulatory and research purposes in this region. LMOS 2017 is a collaborative effort between LADCO and its member states, NASA, NOAA, EPA, EPRI, Scientific Aviation, and a number of research groups at universities.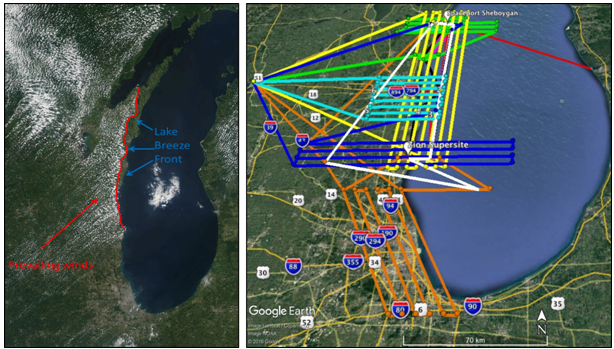 MODIS imagery on the left shows the lake breeze front along the western lake shore converging with the prevailing offshore flow. High DVs along the lake shore are thought to be influenced by the lake breeze. The map to the right displays the spatial coverage of the aircraft-, ship-, and ground-based observations involved in LMOS to study urban emissions and the lake-breeze influence on the western shore's air quality.
---
Related documents:
» LMOS 2017 and LMOS-Adjacent Publication List (updated 10/12/2022)
» FAQ: Lake Michigan Ozone Study (LMOS 2017)
» LMOS Whitepaper
» Open letter to parties interested in the 2017 Lake Michigan Ozone Study (March 21, 2017)
---
Articles:
» Dr. Charles Stanier provides Lake Michigan Ozone Study update
» Lake Michigan Ozone Study 2017: Collaborative field campaign will pursue sources and transport of ozone
» NASA Aids Study of Lake Michigan High-Ozone Events
---