Data Archive: STAQS 2023
---
Relevant Data / Links
Quicklook Reports [public] :
View / Upload Images & Data --
Aircraft, Ground, Mobile, etc.
File Sharing [private]:

Telecons, Meetings, Reports, etc.
---

STAQS Data Use Policy
---
NASA's Tropospheric Emissions: Monitoring of POllution (
TEMPO
) mission is planned to launch in early 2023 to provide geostationary observations of air quality over North America. With this addition of high-resolution satellite measurements, the
S
ynergistic
T
EMPO
A
ir
Q
uality
S
cience (
STAQS
) mission seeks to integrate TEMPO satellite observations with traditional air quality monitoring to improve understanding of air quality science and increase societal benefit. STAQS will be conducted in summer 2023, targeting two primary domains in Los Angeles and New York City and several secondary domains across North America with ground and airborne based measurements.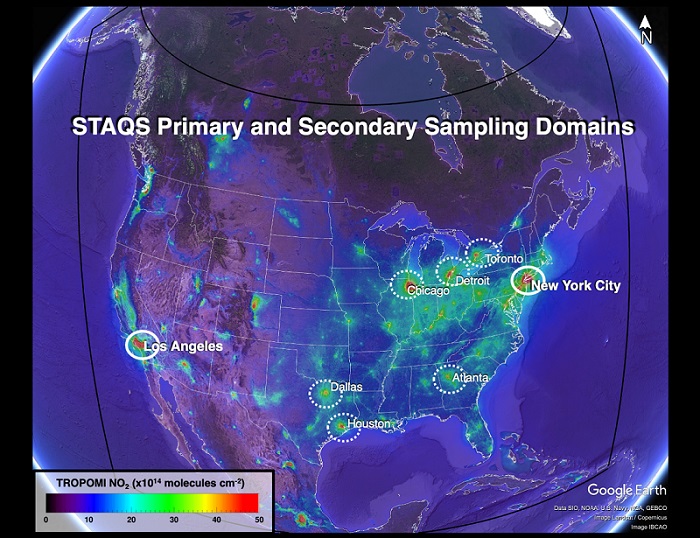 Map of the annual average of TROPOMI NO2 column density measurements April 2018-March 2019 showing the currently planned primary (solid circles) and secondary (dotted circles) sampling domains during STAQS within the TEMPO field of regard (black outline).
---
The framework for STAQS stems from measurements strategies and collaborations developed during airborne air quality studies from the last decade. For STAQS, NASA is collaborating with partners conducting complementary air quality studies in 2023 (AEROMMA, CUPiDS, GOTHAAM) to build a synergistic observing system more robust than any singular entity could provide alone. This growing list of partners include federal agencies, regional air quality consortiums, state air quality agencies, and academic institutions.
Objectives of STAQS include, but are not limited to:
» Evaluating TEMPO level 2 products geo-physically, spatially, and temporally
» Interpreting the temporal and spatial evolution of air quality events tracked by TEMPO
» Improving temporal estimates of anthropogenic, biogenic, and fire emissions
» Assessing the benefit of assimilating TEMPO data into chemical transport models
» Linking air quality patterns to socio-demographic data
NASA Johnson Space Center Gulfstream-V:
The airborne TEMPO-proxy payload will be installed on Johnson Space Centers G-V which has two remote sensing portals providing a nadir point of view over areas mapped. Over the course of summer 2023, this payload will operate up to 150 flight hours collecting data with the GeoCAPE Airborne Spectrometer (GCAS) and High Spectral Resolution Lidar (HSRL)-2 + Differential Optical Absorption Ozone. This payload was first demonstrated on this platform during the

TRACER-AQ

mission in September 2021 and provides repeated high-resolution mapping of NO2, HCHO, ozone, and aerosols.


NASA G-V during preflight in Houston, TX on September 9th, 2021.
Credit: Laura Judd
TOLNet:
Continuous tropospheric ozone profiles add a critical component needed to understand processes relevant to air quality and pollution transport with TEMPO. The
NASA Tropospheric Ozone Lidar Network
(TOLNet) will contribute to STAQS most heavily in the New York City domain (at least 3 systems operated by NASA and CCNY) with possible additional support in the Los Angeles and Toronto areas where JPL and ECCC operate two additional systems, respectively.
Pandora Spectrometers:

Pandora spectrometers consist of a ground-based UV-VIS spectrometer capable of operating in direct-sun DOAS or multi-axis(MAX)-DOAS mode and is the primary validation instrument for the TEMPO mission. Currently, at least 20 Pandoras are operating as part of the

Pandonia Global Network

in the domains of interest for STAQS. Products from this instrument include NO2, HCHO, and Ozone.


Pandora head sensor operating in Huntsville, Alabama.
Credit: Bob Swap/NASA
Ground based monitors:
STAQS aims to leverage existing monitoring networks operated by the EPA and state air quality agencies within the domains sampled during STAQS. Relevant parameters include, but are not limited to, ozone, nitrogen dioxide, formaldehyde, and meteorology.
Other aircraft:
The collaborative activities associated with STAQS (
AEROMMA
, GOTHAAM,
CUPiDS
) include other airborne payloads with in situ and remote sensing measurements relevant to TEMPO air quality science on board the NASA DC-8, NOAA Twin Otter, and NSF C-130 aircrafts.
Planning team:
| | |
| --- | --- |
| | |
| Laura Judd (Mission Scientist/Airborne Lead) | |
| John Sullivan (Mission Scientist/Ground Lead/TOLNet PI) | |
| Jim Crawford (Science Advisor) | |
| Barry Lefer (Program Manager) | |
| Michael Shook (Data Manager) | |
| Gao Chen (Data Manager) | |
| Tyler Thompson (G-V Manager) | |
| Brendan Finnegan (G-V Mission Planner) | |
| Tom Hanisco (NASA Pandora Project PI) | |
| Jim Szykman (EPA Science Liaison) | |
| Luke Valin (EPA Science Liaison) | |
| Scott Janz (GCAS PI) | |
| John Hair (HSRL-2 PI) | |
---
Collaborative Activities: